Geechee Girl will be closed for Sunday Dinner for a couple of more weeks.
Specials are subject to change. Call the restaurant at 215-843-8113 for the latest update.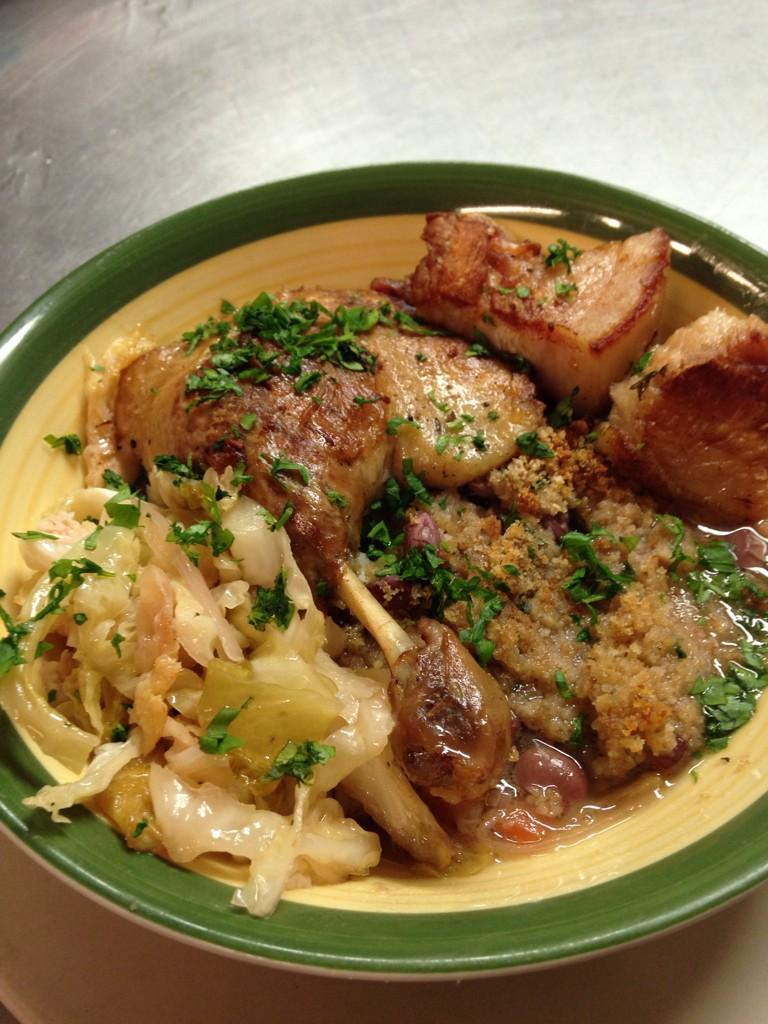 The weather's cooler.  Time for us to make Craig LaBan's favorite Geechee Girl dish: Low Country Cassoulet.
This Weekend's Specials
West African Peanut Chicken Soup garnished with jasmine rice
Geechee Girl brie salad: Overbrook Farm lettuce, herb toasted brie, fresh peaches, candied pecans, Geechee Girl vinaigrette
Roasted Marinated Overbrook Farm Beets Garnishsed with Fresh Goat Cheese
Low Country Cassoulet: Duck Confit; Stewed Dixie Peas; Crispy Pork Belly; Glazed Savoy Cabbage
Shrimp Gumbo: Geechee Girl Gumbo topped with jumbo shrimp.  Jasmine Rice; Sautéed Greens
And we mark the return of apple season with Double Crust Apple Pie.
Brunch Specials
Geechee Girl's refreshing housemade beverages: Strawberry Lemonade; Watermelon Agua Fresca; Sorrel (hibiscus with sparkling water); Sweet Mint Iced Tea
Cherries Jubilee Pancakes.  Geechee Girl Pancakes topped with flambleed cherries and whipped cream.  Chicken sage sausage
Fish Fry Savannah: Cornmeal Coated Pan Fried Whiting; Geechee Girl Shrimp Gumbo; Stongeground Grits; Sauteed Greens
Fried Chicken Wednesday continues till the end of September.  Don't miss out!  Make your reservation now!
World's best Fried Chicken.  More popular every week!  Make a reservation (it helps us plan) and get there early, cause when it's gone, it's gone. Can't come in?
Order your fried chicken to go. 215-843-8113
Fried Chicken; Mac & Cheese; Sauteed Greens; Buttermilk Biscuit; Watermelon Rind Relish
Geechee Girl will be closed for Sunday Dinner for a few more weeks.
Come work with us!  Geechee Girl is looking for an
experienced server
. If you love food, respect local and seasonal and have a commitment to community, this is the place for you. Send resume with cover letter to
GeecheeGirl.catering@gmail.com
. 
No attachments
, please.
Geechee Girl's online store is open!  Surf on over to get your favorite desserts, gift certificates and the Geechee Girl Recipe Calendar.
  The Geechee Girl 2014 Recipe Calendar.
Perfect gift for the food lover on you list.  And remember: a
Geechee Girl Gift Certificate
is always appropriate.
Diners, Drive-Ins and Drives Update The folks at Diners, Drive-Ins and Drives have a map of featured restaurants and Geechee Girl (natch!) is on it.  They've posted a couple of older videos about Geechee Girl and Valerie. If you missed them, you can look at them here.  And the website has a feature where you can upload any photos you have of Geechee Girl.
Geechee Girl was filmed for the Food Network hit show Diners, Drive-ins and Dives with host Guy Fieri. We are thrilled to have been chosen and it was a great experience.  And for anyone who's wondering, Guy is just as nice and just as much fun as he seems on TV.   Geechee Girl wants to give a shout out and a thank you to the great customers who agreed to appear on camera
    Valerie talked  on NPR about blueberry dumplings, an iconic dessert from her childhood.  If you missed the broadcast, you can listen
here
. We usually don't serve blueberry dumplings in the restaurant (they're really more of a watch, wait and eat dessert), but you can try the recipe on the NPR page. (Valerie will answer any questions.)
Our family and friends on opening night 10 years ago!
A Geechee Girl gift certificate is always a perfect gift.

Geechee Girl is here to make your entertaining easy.  Call Valerie at 21-843-8113 if you're interested in renting the restaurant or having the food and staff brought to your place.  Take a look at our takeout catering menu for lots of flexible ideas.
names Geechee Girl one of the best Southern restaurants in Philadelphia
Geechee Girl Rice Cafe
Food: 25
Decor: 19
Service: 21
Cost: $28
Valerie Erwin's tribute to Low Country cuisine at her "humble" but "cute" Germantown BYO might be "Philly's best claim to be part of the Carolinas", as the reasonably priced, "down-home" fare comes with a side of "Southern hospitality"
Geechee Girl's flower garden


Yes we cater!   Take a look at our takeout catering menu or call Valerie at 215-843-8113 to discuss more elaborate catering events.

   Saturday Brunch Party
Geechee (pronounced with a hard "G") was one name for the enslaved West African peoples who lived on the Sea Islands and coastal areas of the Carolinas, Georgia and Northern Florida. The Africans who were brought to South Carolina lived on West Africa's rice coast and were expert in rice cultivation.
Much of the success of the Sea Islands' early rice industry can be attributed to a black rush basket called the fanner that was developed by the Geechee people. The fanner was used to toss (fan) threshed rice into the air to allow the wind to carry off the chaff
Today, Chef Valerie Erwin builds upon traditional southern rice delicacies with world influences. Come sample Geechee Girl's delights when you visit Philadelphia!