Specials are subject to change. Call the restaurant at 215-843-8113 for the latest update
 Geechee Girl will be closed for Sunday dinner for a few more weeks

This Weekend's Specials
West African Peanut Chicken Soup garnished with jasmine rice
Geechee Girl brie salad: Overbrook Farm lettuce, herb toasted brie, fresh peaches, candied pecans, Geechee Girl vinaigrette
Roasted Marinated Overbrook Farm Beets Garnishsed with Fresh Goat Cheese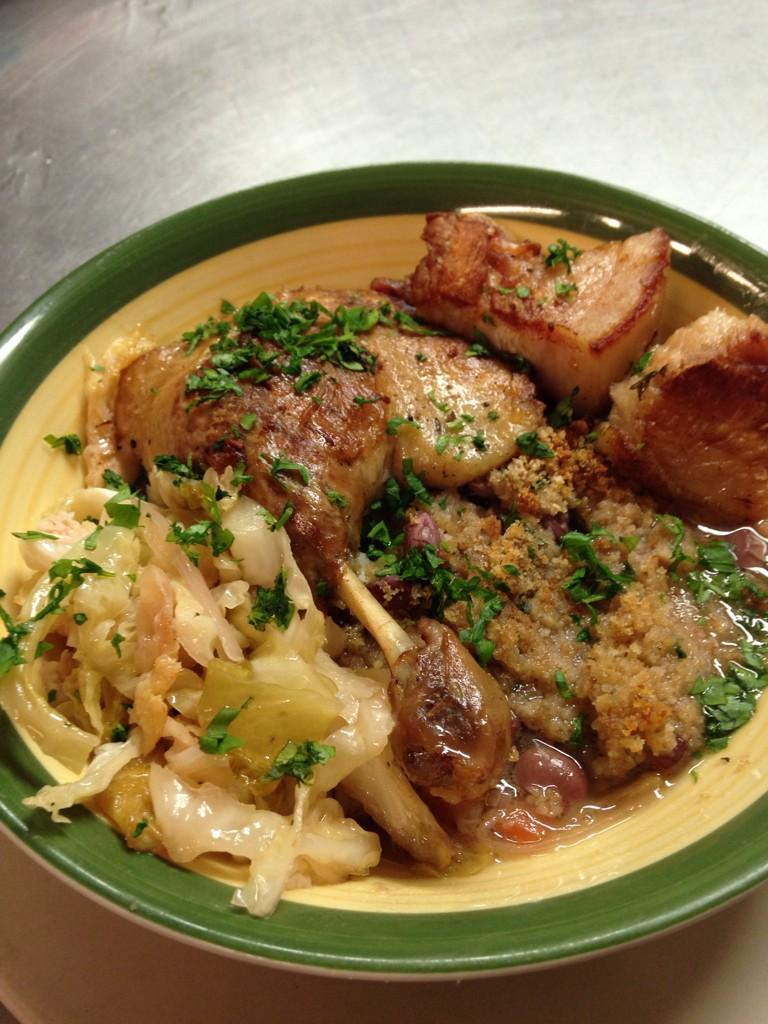 Low Country Cassoulet: Duck Confit; Stewed Dixie Peas; Crispy Pork Belly; Glazed Savoy Cabbage
Shrimp Gumbo: Geechee Girl Gumbo topped with jumbo shrimp.  Jasmine Rice; Sautéed Greens
And we mark the return of apple season with Double Crust Apple Pie.

Fried Chicken Wednesday (Wednesday Only) continues till the end of September.  Don't miss out!  Make your reservation now
Fried Chicken; Mac & Cheese; Sauteed Greens; Buttermilk Biscuit; Watermelon Rind Relish
Fried Chicken Wednesday!  (Wednesdays Only!!!)

World's best Fried Chicken.  More popular every week!  Make a reservation (it helps us plan) and get there early, cause when it's gone, it's gone. Can't come in?
Order your fried chicken to go. 215-843-8113
Soup of the day (ask your server)
Geechee Girl House Salad: mixed greens  w/ shaved cheddar, candied pecans & garnished w/seasonal fruit
$6.5
Romaine Salad with buttermilk dressing and cornbread croutons
$6.5
Cornmeal Flatbread w/ goat cheese, fontina, caramelized onions and bacon
$10
Brie Salad: mixed greens w/ a wedge of toasted brie, candied pecans and seasonal fruit
$8.5
Crispy Hoppin' John: Geechee Girl's take on Carolina's traditional dish of blackeyed peas and rice
$7
Sweet potato tostones: twice fried sweet potato medallions.  Topped with sour cream and green tomato relish
$5
Caribbean cod fritters drizzled with sweet and spicy sauce
$6.5
Entrees
Carolina Pulled Pork: House smoked and slow roasted pork shoulder served  w/creamy coleslaw, BBQ blackeyed peas & cornbread
$18
North African chicken with cumin, citrus and garlic.  Cous-cous style Carolina Gold rice.  Sauteed greens
$18.5
Low Country Shrimp and Grits: Sautéed shrimp and shallots in rich shrimp sauce on stoneground grits. Sautéed greens.
$18
Grilled Pork Chop; Bourbon glazed apples; strata with julienne ham, caramelized onion and cheddar.  Sauteed greens
$ 22.75
Spice Rubbed Salmon: salmon filet seasoned with our sweet and savory rub.  Served with Lofgren Farms russet rice and sauteed greens
$19.75
Vegetable Country Captain: Vegetables in a mild tomato curry on  Yellow rice with green peas.  Garnished with raisins, almonds and coconut.
 $16
$21 w/Shrimp
Sides
Sauteed greens
$5
Sauteed green beans
 $5
Blackeyed peas and ham
$5.25
Anson Mills Stoneground grits
 $5
Cornbread
 $2
Buttermilk Biscuit
 $2
Jasmine Rice
 $2.5
Lofgren Farms Russet Rice
 $3.75
Anson Mills Carolina Gold Heirloom Rice
 $3.75
Gourmet Rice Sampler
 $5
Beverages
House brewed sweet mint iced tea
$2
House brewed unsweetened ice tea
$2
South African Ginger Beer
$3.50
Lemonade
$2
Assorted drinks
$2 – $2.5
San Pellegrino
$1.75 sm.
$6 lg.
Bottled water
$1.5
Pepsi/Diet Pepsi
$2
La Columbe Coffee/ Decaf
$2.5
Assorted Hot Teas
$2
Pot of Speciality Loose Tea(s)
$5
$6.5
(for two to share)
Desserts
Rice Pudding
$5
Netta's Sour Cream Pound Cake
$6
Gingerbread
$6
Pecan Pie
$7
Brownie Sundae: Brownie w/ vanilla ice cream, caramel sauce and candied pecans
$7.5